FICUV
Fundación Hospital Clínico Universitario de Valencia
Instituto de Investigación Sanitaria INCLIVA. Valencia
A multidisciplinary team of investigators with expertise in Vascular and Endocrine Physiology, Molecular Biology, Biochemistry, Cell Biology, and Reproductive Biology.
The primary research line in this group is the study of the vascular effects of estrogens and other steroidal substances. To this end, a translational approach is used that ranges from endothelial cells in culture to experiments in animal models and studies of post-menopausal women undergoing hormone replacement therapy. Recently, a line of research was initiated to address the endothelial dysfunction associated with aging.
The group's research includes studies of gene and protein expression, production of vasoactive substances, and functional studies that use the techniques of molecular biology (PCR, RT-PCR, microarrays), biochemistry (western blot, immunofluorescence, ELISA, HPLC), cell biology (primary cultures of human endothelial cells, flow cytometry), and vascular physiology (vascular reactivity). More information
The group participates in COLMAH-HERACLES and maintains collaborations with various HERACLES programme groups, as well as national and international external collaborations.
Latest publications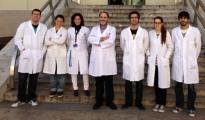 Coordinator
Members