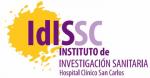 UCM-HCSC-T
Hospital Clínico San Carlos
Facultad de Medicina. Madrid
This multidisciplinary research group possesses last-generation technology and skills for proteomic and genetic analysis, as well as strong experience in translational research with samples obtained from patients with cardiovascular diseases. Our research lines are highly diverse but we would highlight a few of the studies undertaken in patients with different cardiovascular risk factors, using proteomics to attempt to identify new biomarkers of disease progression and of response to pharmacological treatment. We have extensive experience in the study of platelets and their involvement in the response to drug therapies. Using proteomic analysis, in this research line we have defined modifications in the content of proteins that differentiate between platelet responders and non-responders to antiplatelet treatment. We have recently expanded this line of research to include megacariocytes in culture. In addition, we have opened a new line of study in Talavera because a member of our group is heading the Epidemiology Services of the Talavera Hospital. This study is analyzing the plasma proteome of a patient population in that area to look for any relationships between proteome modifications and cardiovascular risk and dietary habits.
We also have several research lines studying the map of protein expression in appendages of patients with hypertension, with or without atrial fibrillation and the protein map of the vascular wall in patients will diabetes.
The group also has a major line of analysis of genetic alterations associated with sudden cardiac death. This includes agreements with sports institutions and participation in an autonomous network for the study of channelopathies that also includes the group led by Dr. Juan Tamargo at the Universidad Complutense in Madrid.
Latest publications